The Twitter list is a great way to stay up with activity, participate in relevant discussions, and curate content and allows you to sort your favorite Twitter accounts and browse the most recent relevant stuff they have shared. Using marketing and monitoring tools like Hootsuite in conjunction with Twitter lists might provide valuable information on how your favorite accounts are performing.
Let's look at how you may make the most of Hootsuite's features.
How to Add Someone on Twitter Using Hootsuite
Once you've saved a list of Twitter accounts, you can connect them to Hootsuite streams to manage your presence on the social media network more effectively.
After connecting your Twitter list in Hootsuite, you will be able to schedule and automate processes such as posting, performance assessment, audience engagement, flagging essential conversations, and much more.
The Twitter lists can be viewed as Hootsuite streams from the platform's straightforward interface. To access streams on Hootsuite, you must first create a list on Twitter, which is simple to do.
Here's how to make a list on Twitter:
Step 1
Access your Twitter account using the mobile app or the desktop website.
Step 2
Select any tweet from the account you wish to include in the lists.
Step 3
At the side of the Tweet, tap on the three horizontal buttons to access various options.
Step 4
A screenshot of the "Add/Remove from Lists" option.
Select "Add/Remove @Selected Account from Lists."
Step 5
A screenshot of the "Create a List" button.
Add the account to an existing list or click "Create a List."
Step 6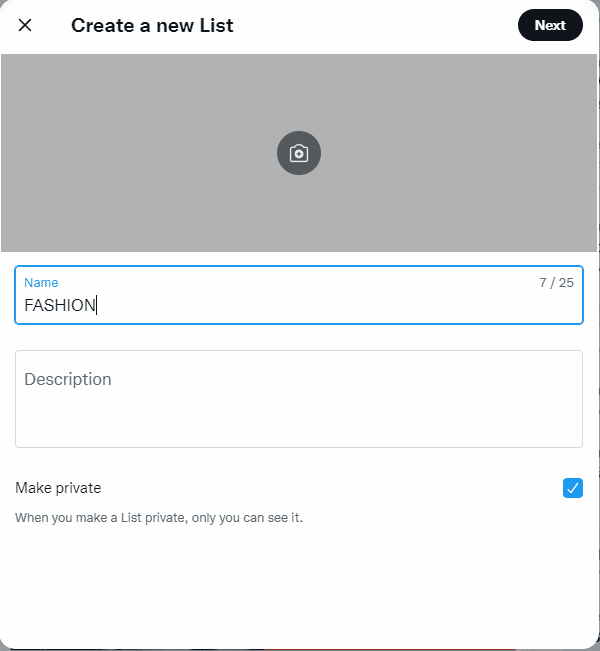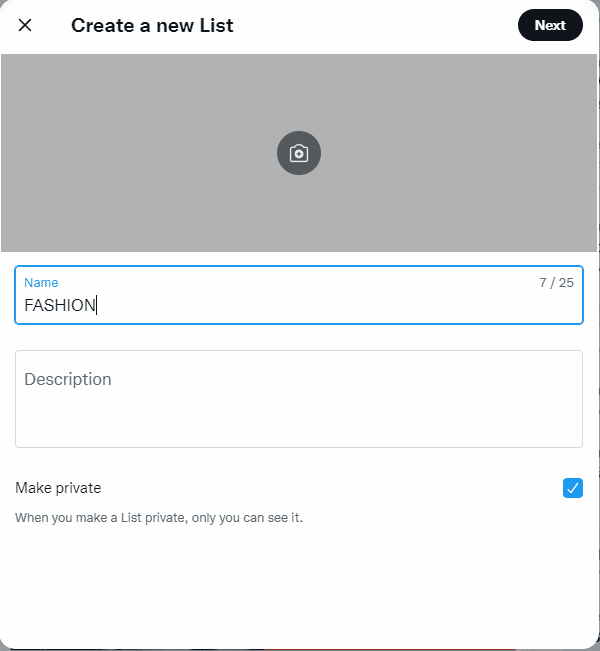 A screenshot of a fresh Twitter list being created.
If you're making a list for the first time, fill up the fields in the options that appear.
Step 7
You may also choose whether you want your followers' public or private list.
Creating a New Twitter List in Hootsuite
If you've never made a Twitter list before, you can do so directly from your Hootsuite dashboard. When you create it and add users to it, it will be available when you log in to Twitter. However, if you already have Twitter lists, you'll need to import them to Hootsuite using the same method.
Step 1
Just above your current columns, click "Add Stream."
Step 2
Select the Twitter and Lists tab in the new window.
Step 3
Select your Twitter profile from the drop-down menu.
Step 4
If you have any existing lists, they will appear in the next box under your selected Twitter profile. Choosing one of the current Twitter lists will import it into your Hootsuite dashboard as a new stream/column.
Step 5
If you don't have a Twitter list, select "Create a New List."
Step 6
Make a name for the list.
Step 7
Add a description if you like; this is optional but handy for lists you'll share or if you create a lot of lists with similar names.
Step 8
Select between a public or private list.
Step 9
A screenshot on how to add Twitter list on Hootsuite.
Select Add Stream.
Your new list will be inserted as a stream/column to the far right of the tab you were currently seeing. If you don't see it on the right, scroll to the right. Most screens will only display four columns at a time.
Adding Individuals to a Twitter List in Hootsuite
After you've created your Hootsuite Twitter list, you'll need to add various accounts, or it will become empty. There are two ways to add people to your new Twitter list, either directly from Hootsuite or Twitter list stream preferences.
THROUGH THEIR PROFILE
Accounts that are new to you or that you discover through searches or retweets from others can be added to a list in Hootsuite via the menu on their Twitter profile.
sTEP 1
To add a Twitter account to a list, click on its profile picture. A new window will open with their Twitter profile details.
Step 2
A screenshot of adding someone on Hootsuite through their profile.
Click on the three dots after their name, and a pop-up menu will appear. You'll see a "Add to List" option.
Step 3
Hit Add to List and choose the list to which they will be added.
THROUGH THE TWITTER LIST STREAM
Another option to add someone to a Hootsuite Twitter List is through the stream/column preferences.
Step 1
Select the Hootsuite stream or column from which you want to add someone.
Step 2
Then, click on the three dots in the top right corner of that column. Make sure it's the three dots in the correct column.
Step 3
Select Preferences.
Step 4
Insert the Twitter handle into the window and press the Add button.
Adding a Twitter Stream in Hootsuite
You can set up streams to track specific behavior on your linked Twitter profiles. Streams allow you to track engagement on your tweets and tweets from Twitter users in a list.
NEW BOARD
When you choose New board, you have three options for creating Twitter boards:
A screenshot showing the board type options.Monitor my own content – Create streams for your personal social accounts.Discover new content – Create streams to keep track of trends and competitors.Follow personalized feeds – Start creating personalized streams based on any subject or activity.
To view all accessible streams, choose Follow personalized feeds, then a Twitter account, and finally one of the available streams for that account.
EXISTING BOARD
You can add a stream to an existing board at any time (boards have a limit of 10 streams).
Web:
Step 1
Navigate to Streams.
Step 2
Create or choose a board to host the stream.
Step 3
Choose Add stream.
Step 4
Choose Twitter from the menu on the left.
Step 5
Choose a profile from the drop-down menu.
Step 6
Choose which streams to include.
iOS Devices:
Step 1
Navigate to Streams.
Step 2
Scroll down to Manage boards & streams.
Step 3
Click Add stream at the bottom of the tab you wish to add it to.
Step 4
Choose a Twitter account, then a stream type.
Step 5
In the upper right corner, click Save.
Android devices:
Step 1
Go to Streams.
Step 2
Choose Manage boards & streams from the stream drop-down menu at the top.
Step 3
Select More next to the tab name you wish to add the stream to, and then select Add stream.
Step 4
On the Feed tab, select a Twitter account, followed by a stream type.
How to Remove Someone on Twitter Using Hootsuite
In Hootsuite, removing an account from your Twitter lists is simple. Follow the instructions below to simply stop receiving tweets from a specific account on your lists.
Step 1
Go to the "Streams" icon.
Step 2
Navigate to your associated Twitter list streams.
Step 3
To bring up options, tap on the three horizontal dots. This is found above the "Search Stream."
Step 4
Then, click "Preferences," and once inside "Remove users," hit the delete button next to the account you wish to delete.
Step 5
Finally, press "OK" and then "Done."
What Is a Twitter List on Hootsuite?
Hootsuite is a free Twitter application. A Twitter Tab can be added to your Hootsuite account. When you do this, it will add a few columns (which Hootsuite refers to as streams) for your home feed, mentions, direct messages, and posted tweets.
Adding selected accounts to your Twitter lists can be a powerful marketing strategy. This allows you to control and track your total presence and productivity on the social media platform.
Using your Twitter lists in Hootsuite is a great approach further to reduce the platform's administration and scheduling concerns. Here are some of the pros of adding someone to a Hootsuite Twitter list:
Increase follower and business engagement – Using Hootsuite to set automatic tweets in the form of videos, images, and much more directly from this platform. These can be shared with your audience directly from Hootsuite.Increase your scheduling speeds – You can gain a competitive advantage over your competition by planning numerous tweet campaigns ahead of time using an excellent marketing tool like Hootsuite. Depending on your audience, you can schedule tweets in advance or daily.Set post goals and monitor your performance – Hootsuite provides a wide range of tools to assist you in identifying general trends among your lists and viewers. This helps develop a long-term goal that you can use to manage your performance on Twitter. You may check your trends in Hootsuite and determine which ones to focus on. You may increase your Twitter performance over time by fine-tuning your content.