Coming up with a catchy username on TikTok can be difficult, especially if you don't want to use your actual name for your personal brand. The good news is that if you are in need of TikTok username ideas, you can use name generators to help you.
This post will cover each TikTok username generator as well as let you know which username ideas it spit out for us when we gave them a try. It will also give you a few tips on how to pick the perfect TikTok username.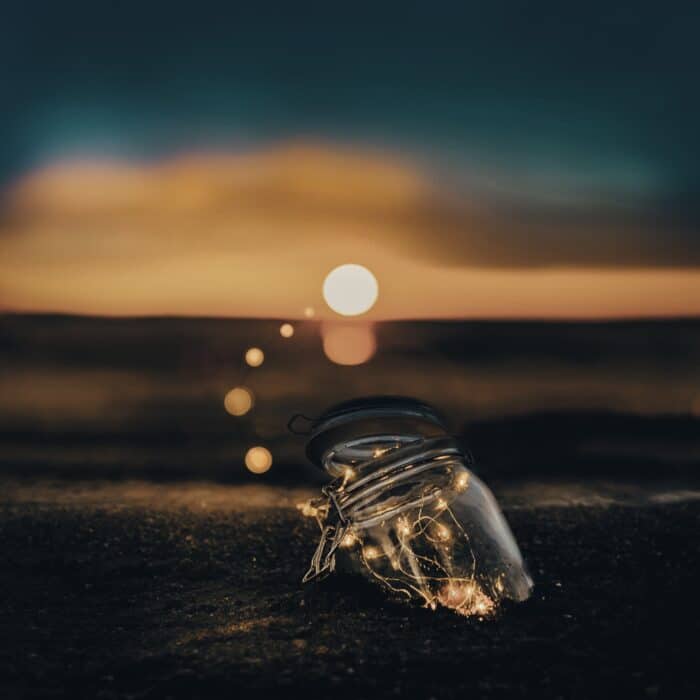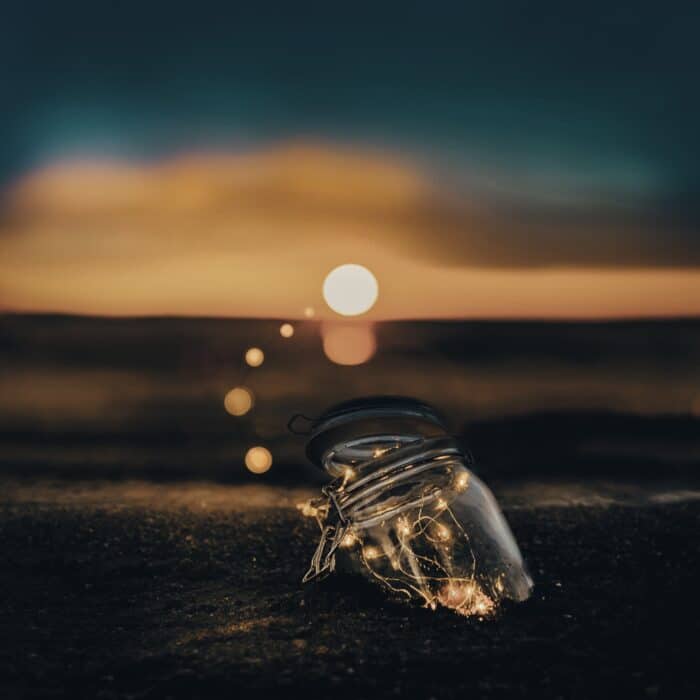 Username Generators for TikTok
If you are looking for a free Tiktok username generator, you have come to the right place. There are several platforms online that will spit out random usernames or allow you to narrow things down by inputting unique words based on your persona or brand.
I've compiled a list of four excellent TikTok generators for you:
1. Weshare
Weshare provides neat and creative name options. Simply enter one or more keywords on the Weshare website to get it working. The vast number of options will be shown in boxes with stylish fonts that make it easy to visualize your new brand.
All you need to do is input a word into the generator and it will come up with several TikTok username ideas that you can browse through. This tool can even be used if you are looking into setting up a gaming channel on YouTube or starting your own corporate brand.
Even though Weshare does not check availability for TikTok, it does so for some other platforms, such as Twitter and Instagram. All you have to do is click on the username ideas you're interested in and the generator will check several social media handles for you.
TikTok Username Ideas for Art Accounts
We input a few art-related keywords into Weshare and got a few of the following results:
LoudpaintsSmartpaintsPainsvilleDrawsiNerdydrawsHotdrawsArtwatchArtchickArtverse
2. Nordpass
Nordpass offers creative and out-of-the-box ideas for your username. When you type a keyword into the software, it will be combined with endless words to generate all kinds of names. You can personalize your results by picking a category of names or choosing your preferred length. Just remember to keep it under 24 characters, which is the limit for a TikTok username.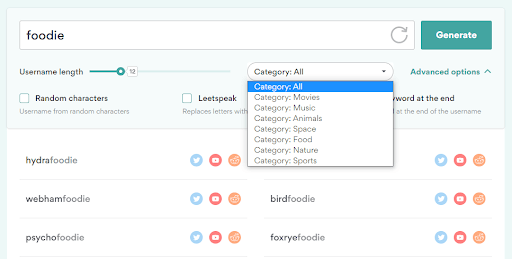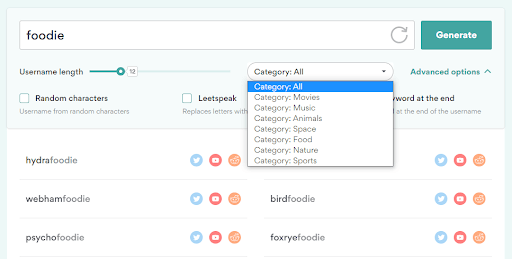 The TikTok username generator also has advanced options that will allow you to use random characters, replace letters with numbers or symbols, or ensure that the keyword you select stays at the end. This may unlock other usernames that will still remain totally unique.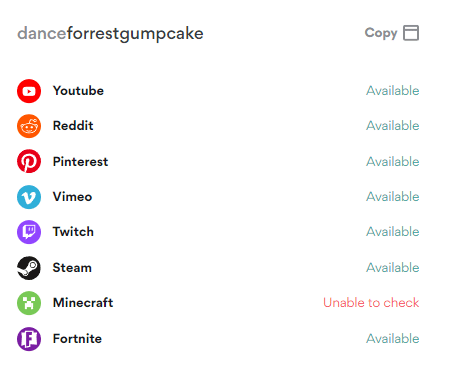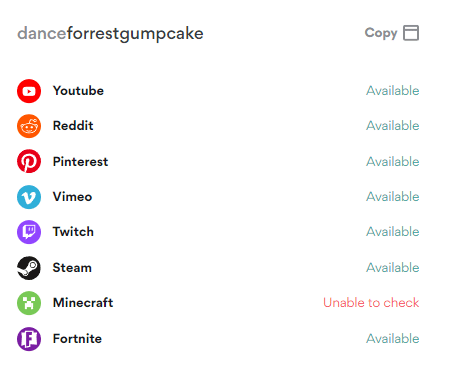 You can also check to see if usernames are available on the NordPass generator. TikTok is, unfortunately, not an option, but if you are looking for a catchy name that will work on several social accounts, this feature may help you out.
TikTok Username Ideas for Dance Accounts
If you want TikTok name ideas for a dance or music account, here are a few that this TikTok name generator came up with:
SingOctopusFishSingCerealBeeSingDanceWildflowerDanceMelodyUnforgivenDanceSkiptuneSkipantSkipgravity
3. SpinXO
SpinXO creates usernames based on your interests. Type in your name and a few things like your hobbies and interests to discover multiple name combinations. You can favorite names and compare them by clicking the start next to each one.
You don't have to fill in every suggestion box, but the more you fill in, the more good username ideas you will get for your TikTok account.


If you're interested in one of the options, click the suggested username to run an availability check on a few websites! Unfortunately, TikTok is not one of the accounts you can check, but it will give you a headstart on building an online brand.
Best TikTok Username Ideas for a Travel Account
If you are traveling the world and need an idea for an online nickname we use as a goof TikTok name, you can use this username generator. Here are a few of the TikTok names we generated from the platform:
AircraftAiringBlueTravelHempTravelGlobertalGlobeGlosserFaresFarerEarthSwothAirpaneTwistTravelanti
4. GeneratorMix
GeneratorMix combines a word of your choice with completely random words, resulting in both weird and entertaining usernames. Give GeneratorMix a try to maybe find your new TikTok username. If you don't, you might still get some laughs out of it!
5. Randommer
Randommer will allow you to input your first and last name (if you wish). It will then generate several names for you that you can browse through as you scroll down the page. If one catches your eye, you can instantly check if it is available on TikTok as well as several other social accounts. You can refresh the list as often as you like or input different words or names to generate more options.
Is The TikTok Name Available?
Have you picked your favorite username? Now it's time to create your new TikTok profile, but before, let's check for availability! These websites will quickly check if your chosen name is available on TikTok and other social platforms and websites:
1. Namechk
Namechk is an easy and intuitive username verifier that checks for username availability in multiple domains and social media. To use it, simply enter your desired username on the top of the screen and press enter. After loading, color coding will reveal name availability: green boxes mean the name is available on that platform, while purple boxes mean the username is already in use.


Tip: Apart from letters, TikTok usernames can include numbers, underscores, and periods. If your favorite name is not available, you can try including additional characters to find alternatives.
2. KnowEm
KnowEm is an online tool that provides you with name-checking for over 500 social networks. While slightly more complicated to navigate than Namechk, KnowEm provides you with a larger array of websites and social platforms. If you're serious about your brand, you can pay KnowEm to create complete accounts using your new username on up to 300 platforms and websites.


To check availability for TikTok, input your desired username on the KnowEm homepage. After loading the first results, click the "Search over 500 social networks" button to view TikTok. Scroll to the bottom of the page and load results for the "Video" section.
Choosing the Best TikTok Name
Once you modify your TikTok username, you can't change it for another thirty days. So, to avoid changing your mind and being stuck with a name you don't like, really put some effort into finding the perfect name!
Check these best TikTok username generator tips:
social-instagram
Other Platforms
If you're using other social platforms, such as YouTube or Instagram, you might want to choose the same username for your TikTok account. That way, your followers can find you with the same name on every website. If you're still choosing a name for your accounts, make sure you run your options through a name checker and pick the most available name!
tools
Length
Although TikTok usernames are required to be between 2 and 24 characters long, stay away from usernames that are too long. The shorter your name, the easy it is for followers to remember or search for it!
strategy
Make It Memorable
You can make your name stand out by making it simple and easy to remember. You can use your name or words that relate to what you do, and maybe even a combination of both! Make good use of the username generators to get the best results. Just remember to limit your use of special characters and numbers, as they make it harder to memorize your username. 
Note: changing your TikTok username will also change your profile link!